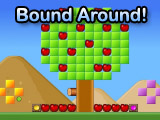 Take control of your colour changing ball as you attempt to break through 160 challenge packed levels! Explore deserts, forests and snow-covered levels as you use your skill to break all the coloured blocks with your controllable ball.
---
Bound Around is an action-oriented puzzle game where you break bricks with a controllable ball. There's an added twist though -- you must match the colour of the ball to the colour of the bricks you want to break! But watch out, changing the colour of your ball leaves you vulnerable to hazards of the same colour!
Each of the 160 unique levels is packed with a collection of devious obstacles, from deadly skull blocks and prickly cacti to creepy crawly bugs and exploding apples! Each obstacle will test your logical thinking abilities, and some may be a help as well as a hindrance.
Bound Around features a classic combination of reflexes and puzzle solving. Navigating the ball through the levels isn't enough, as you'll need to think ahead to solve the level. When you purchase the full game, you'll also get the puzzle game "Frozen Fruits X" completely free!
Bound Around is brought to you in association with Blueskied Games.
Screenshots
Click an image to view a full size screenshot.
| | |
| --- | --- |
| | Unique colour changing system. You can only break blocks that are the same colour as your ball, so you must plan ahead to ensure you can clear the level. |
| | Use enemies and bombs to remove obstacles. In this screenshot, the apple must be dropped onto the skull blocks so the ball can reach the colour switcher. |
| | 160 fun and interesting levels. The full version contains 160 different levels that are sure to keep you entertained and stimulated for hours. |
Features
160 levels of fun and interesting puzzles.
Cartoon-style graphics and music with different themes, including sandy deserts and colourful greenery.
Automatically saves after completing each level, so you don't have to worry about losing your progress.
Fun for all ages
Full Version Benefits
Unlimited play
Access all 160 levels
Free bonus game "Frozen Fruits X", with 30 levels
---