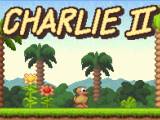 Get lost in a colourful cartoon world with Charlie the Duck! Charlie is a cute yellow duck that runs, jumps and swims through 18 varied levels, avoiding obstacles and finding hidden treasure. If you like platform games, give Charlie 2 a try!
---
Charlie 2 is a platform game in which you take control of a cute yellow duck named Charlie. Run and jump though different levels, swim into lakes to find new areas and use springs to bounce Charlie into hidden places.
The full game features 18 different levels, and each one is packed full of secret areas for you to find. You must collect diamonds and coins to gain access to later levels, so you'll need to explore every nook and cranny to get to later levels. Charlie is a breeze to play, and with its colourful graphics and upbeat music is the perfect game for kids.
Charlie 2 is brought to you in association with Wiering Software.
Screenshots
Click an image to view a full size screenshot.
| | |
| --- | --- |
| | Fun graphics and gameplay. Charlie 2 features fun and colourful graphics that help the world to come alive. The gameplay is fun and easy to pick up, so you can start having fun straight away. |
| | Build spatial skills by exploring the world. Like all ducks, Charlie is a great swimmer! Using his diving skills you can explore underwater areas of the level and find secret areas full of treasure and puzzles. |
| | Eighteen different levels to explore. Charlie 2 features 18 different levels, each of which is packed full of obstacles, collectables and puzzles. The cunning level design and secret areas will keep you coming back for more. |
Features
18 different levels to play through
Different items to collect, such as diamonds and coins
Many secret areas to find
Full Version Benefits
Unlimited play
Access all 18 levels
Find all of the secret areas
Non-violent fun – great for kids
---