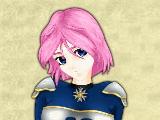 Help an orphan girl discover her destiny. Take jobs around down, develop her skills at college or find monsters and treasure in the dungeons. In this Princess Maker style game, your actions will decide her future!
---
It's your 18th birthday, and with no idea of your past you're left to fend for yourself. All hope seems lost, until a fairy appears to offer help and guidance. You have until your 21st birthday to discover your destiny and build the life of your dreams. Will you choose to be a warrior, a princess, a thief or a scholar? Every action you take will affect how your character grows and which ending you'll see. The choice is yours!
Cute Knight puts you in complete control of your character. You can help our around town to earn money, increase your skills and build trust and respect. The more people respect you, the better jobs you'll be able to take and the more money you'll earn. If you've had enough of work, you can enroll at the college and study a range of courses to improve your skills.
If college isn't your scene, don your sword and armour and head into the dungeon. Find hidden treasure, and battle the giant monsters that stand in your way. If you've had enough of the dungeon, head to the town square to make friends, busk for money or take part in the games at the seasonal festivals.
With so much to see and do, it's easy to see how Cute Knight won Game Tunnel's RPG of the Year in 2005!
Cute Knight is brought to you in association with Hanako Games.
Screenshots
Click an image to view a full size screenshot.
| | |
| --- | --- |
| | Help out to earn money. Help the folks around town by performing jobs to earn money. The more they trust you the better jobs you'll get. Doing a job increases your attributes. |
| | Improve your awareness and problem solving skills. Even small decisions can have a large effect. Will you knock down the door and lose vital energy, or will you train to use their intelligence to pick locks? |
| | Explore randomly generated dungeons. Creep through darkened tunnels to find hidden treasure, but watch out for monsters! Will you run away, fight them or train them? |
| | Learn new skills in a variety of ways Gain experience from performing jobs, or by battling monsters in the dungeon. You can improve your skills at college too, but make sure you have enough to finish the course! |
| | Create your own unique character. Choose their birth month, dress them and play in your own individual style. Will you be a sneaky thief, a feisty warrior or a caring animal tamer? Every action you take will decide how your character develops. |
Features
Game Tunnel - RPG of the year 2005
Randomly generated dungeons and events
Cute animations and fun music
Over 50 different story-book endings
Every action affects how your character will grow
Fun for all ages
Full Version Benefits
Guide your character through the full 3 years to one of over 50 different endings
More items to buy
Explore all levels of the dungeon
Meet more characters
Unconditional 60-Day money-back guarantee
---