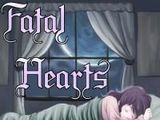 Who will you trust? Make choices and solve puzzles to discover the mysteries behind your dreams in the adventure of a lifetime, Fatal Hearts!
---
Wolves howl in the night, and vampires lurk in the shadows. Are the dreams that Christina is having really nightmares or visions of the future? Is she surrounded by trusted friends or dangerous enemies? Your choices will change the path of the story and Christina's destiny. Make decisions, solve puzzles, and play minigames to reach one of fourteen unique endings in the replayable adventure game of Fatal Hearts!
Screenshots
Click an image to view a full size screenshot.
Full Version Benefits and Features
Find Romance And Adventure!
Your Choices Change The Story And Outcome!
14 Different Endings To Discover
Lots Of Puzzles And Mini-Games
---