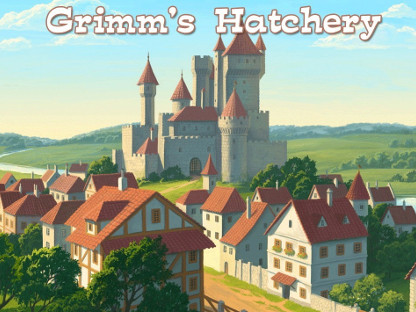 Turn a run-down cottage into a thriving farm to win back your kingdom! Grimm's Hatchery is an adventure game in which you raise and breed your very own magical pets in order to raise enough money to buy back your castle. Beautiful graphics and sound make this one of the most engrossing games you'll ever play!
---
Grimm's Hatchery is an adventure game like none you've ever played before! The story takes place after the death of your stepfather, who has left the kingdom to your evil stepbrother, Lord Boras. Your challenge is to raise 300,000 gold coins within 80 days so you can buy back the castle and rid the kingdom from the cruel grip of Lord Boras.
In order to raise this huge amount of gold, you buy a deserted cottage known as "Grimm's Farm". From here you begin to raise and breed magical pets, and that's where the real fun begins!
There are twenty different kinds of pet to raise, multiple quests to take part in and an array of characters to interact with. You can even combine certain pets to create even rarer ones! There are plenty of adventures and magical creatures to keep you entertained and intrigued for many hours.
Grimm's Hatchery is brought to you in association with Amaranth Games.
Screenshots
Click an image to view a full size screenshot.
| | |
| --- | --- |
| | Six different areas throughout the kingdom. As you raise money and complete quests, you'll gain access to new areas. Each new region opens more quests, as well as more items and even new pets for you to raise! |
| | Stunning graphics draw you in to the story. Grimm's Hatchery features truly beautiful graphics that really bring the interactive story to life. |
| | Keep and raise twenty different pet types. Grimm's Hatchery gives you plenty of possibilities when choosing your pets. You start with a simple dragonfly, but before long you'll be keeping all kinds of weird and wonderful creatures, such as griffons and geese that lay golden eggs! |
Features
Six areas to unlock
Three difficulty levels
Twenty different pet types
Beautiful and immersive graphics
Side quests to take part in
Non-violent fun
Full Version Benefits
Unlimited Play
Breed new pets
Access new areas
---