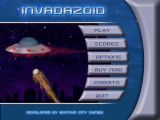 If you've ever wondered what would happen if Space Invaders met Breakout, you can wonder no more! Invadazoid is a mix of the two games that adds plenty of new features to create a fun and interesting experience. The full game contains four challenging modes, over 60 levels and a host of enemies.
---
Invadazoid is an action game that blends elements from Breakout and Space Invaders to create a fun and original experience. Use your spaceship to bounce the ball into hordes of angry aliens as they rein missiles upon you. Collect different power-ups to ease your mission, including original weapons such as the missile deflector.
The full game contains four different modes to keep you entertained. Invasion Mode features over 60 different levels, with multiple attack patterns and boss characters to fight. Boss mode lets you fight all of the bosses, and Survival mode pits you against an endless stream of enemies. You'll always be challenged with Invadazoid!
Screenshots
Click an image to view a full size screenshot.
| | |
| --- | --- |
| | Colourful computer rendered graphics -- All of the enemies and objects in Invadazoid are computer rendered for a crisp and attractive graphical experience. |
| | Different enemy attack patterns -- You'll encounter a variety of different attack patterns as you battle through the game. Each movement pattern requires its own strategy to beat, so you'll always be kept on your toes! |
| | Huge boss characters to battle -- If the waves of enemies aren't enough of a challenge, the end of every location features a large boss character - complete with a horde of minions! |
Features
Computer rendered graphics
8 different locations to play through
Four different play modes
Challenging boss levels
Power-ups to collect
Apply spin to the ball for curved skill shots
Full Version Benefits
Unlimited play
Over 60 levels of challenging fun
Fun for all the family
---