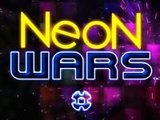 Neon Wars is a mouse controlled arcade game for the whole family! The vivid graphics, great music and exciting game play will blow you away!
---
Neon Wars is an arcade style game which combines vivid graphics, great music, and exciting game play to create an amazingly new experience that stays true to its classic roots! This easy to learn game has you collecting stars and dodging enemies, with powerful special weapons that help even the odds! With intense pyrotechnic special effects, 60 challenging levels and 7 unique survival zones, Neon Wars will dazzle you and soon become your newest addiction!
Screenshots
Click an image to view a full size screenshot.
Full Version Benefits and Features
60 Challenging Levels!
10 Exciting Super Weapons!
Pyrotechnic Special Effects!
7 Unique Survival Zones!
---