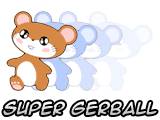 Guide Gerry the Gerbil around the house in his ball, but watch out for springs and bumpers that will push him off the edge! Super Gerball is a 3D action game that will test your reflexes and balancing skills as you explore all six area's of Gerry's house.
---
Super Gerball introduces you the Gerry the Gerbil, a furry little fellow who wants to explore his house. There's just one problem: his house is a very dangerous place to be! You'll have to have your wits about you as you guide Gerry through six different areas of his house. Starting at the garden, you'll travel through the garage, kitchen, bedroom and bathroom before reaching the attic.
Super Gerball's 3D graphics will immerse you in the addictive and engaging gameplay, as you help Gerry travel through each challenging level.
Super Gerball is brought to you in association with Si Design.
Screenshots
Click an image to view a full size screenshot.
| | |
| --- | --- |
| | Travel through beautiful 3D worlds. Each area of Gerry's house has its own look and obstacles to avoid. This screenshot shows Gerry in the garden. |
| | Collect diamonds to progress. Collect the diamonds scattered over the level in order to progress further through the house. |
| | Enjoy watching Gerry interact with 3D objects. Springs and bumpers will bounce you around, so you'll need to be alert. Here we see Gerry speeding around a loop in the kitchen. |
| | Improve your reactions and spatial skills. Super Gerball features three different difficulty levels to challenge every player. |
Features
3 different difficulty settings
Cartoon style 3D graphics
Fun obstacles to overcome, including bumpers and springs
Full Version Benefits
Unlimited play
Play all 60 levels
Explore all 6 areas of the house
Free level editor for creating your own levels
---