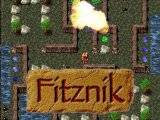 Guide Fitz through 63 bright and colourful levels, collecting gems and avoiding the myriad of traps that await him! Fitznik features great animation, devious puzzles and highly addictive gameplay.
---
Fitznik is an addictive puzzle game where you must guide the hero Fitz through various mazes and levels to collect the treasure! The graphics are colourful and the animation is fluid and a joy to watch. Each level brings new challenges so you're constantly challenged with something stimulating.
Fitznik is easy to pick up and play, but takes skill and determination to truly master.
Screenshots
Click an image to view a full size screenshot.
| | |
| --- | --- |
| | Simple but addictive gameplay. You only need to move Fitz around the levels – there are no complex key-presses or reaction tests here. The real joy of the gameplay comes from seeing how Fitz can use each object to complete the level. |
| | Hours of puzzle-solving fun. Each of Fitznik's 63 levels is crafted to give you maximum enjoyment. You'll want to play to the end of each puzzle just to see what surprises are next! |
| | Tricky traps and enemies to avoid. Each level is packed with traps and enemies to hinder Fitz's progress. Enemies such as snakes need to be avoided using rocks as shelter, but jumping spiders can be closed in and used as explosives! |
Features
63 fiendish levels to play through
Beautifully animated graphics
Fun music and sounds
Easy to learn but difficult to master
Non-violent fun for the whole family
Full Version Benefits
Unlimited play
54 levels to play plus 9 free bonus levels
Solution playback -- see as much or as little as you need to help
New items and obstacles
No more nag screens
---