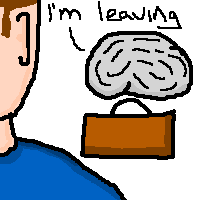 Things have been a little bit quiet over the last few weeks, mainly because I've been in the wonderful world of "the crunch". It's a tough place, and it's also self-inflicted which makes it so much more fun.
Moaning aside, what's been going on?
Planning – As usual, I've been doing a lot of planning work. This includes designing screens and interface elements, as well as cleaning up some of the dirtier aspects of the specification. Some of it is fun, but most of it is quite dull.
Coding Nuts & Bolts – More dull programming tasks, such as cleaning up resource management and creating a state manager. It's as exciting as it sounds.
Graphics – As you can see from the wonderful illustration, art is not one of my strongest skills. There are quite a lot of graphics that need to be done, so I've been spending some time on them. The game has a very "unique" look…

Object / Entity System – Creating a component based object system took a while to get working, but it finally did something interesting. Unfortunately it's a little bit too slow for production purposes, so it's been left on the sidelines for now.

It's definitely something I fully intend to write about in the future, and I'm planning to use it in future games once it's been optimised significantly. The best part was seeing all those sessions of design and coding pay off, even if it was only a moving box. Sometimes it's so easy to get caught in the theory that you forget how much of a boost seeing something on the screen is.
Other fun things include the sale of my first and second Text Link Ads. Although they're hardly going to fund a new lifestyle of champagne and caviar, it was a welcome confidence boost.