My Super-Happy Development Setup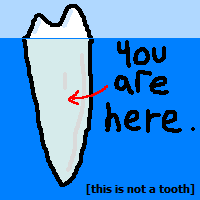 As I've previously mentioned, software development is divided into two very distinct parts. The fun part that everyone loves, and the tedious bits that suck away your energy.
You can think of it like an iceberg. There's the top that everyone sees, where penguins frolic and hold parties. Then there's the sub-surface part. A dark and dreary place that people try to ignore. You can thank that part for the sinking of the titanic.
Today I'll be talking about the 90% you wish wasn't there. Sorry about that.