Every issue we look at what changes have been made, what games are new and how the progress on other projects is going.
A lot has happened over the last few weeks, and although it was mostly behind the scenes there are still some exciting new features to talk about.
New Site Features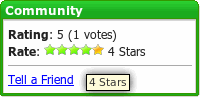 New Games Rating System – All of the games on the main site can now be given a rating with some fancy new stars. Let the World know what your favourite games are, and help make Sodaware a better place.

Tell a Friend Feature – Want to share the fun with a friend? The new "Tell a Friend" feature makes it easy! Simply fill out email addresses and names, and we'll do the rest. Don't worry, your details aren't used for anything else and aren't stored, so you won't be signed up to any newsletters.

Of course, you're more than welcome to sign up to the Sodaware newsletter, which is published every two weeks and contains news and information about upcoming games.
New Games
The following games have been added since the last update:
All of these games have free demos, so you can try them out totally risk-free.
New Tools

The very first version of BlitzBuild was released on the 9th of April 2007, and you can download it from the BlitzBuild project page. It's currently at version 0.1, but it carries out most standard functions. Updates on new releases will be published on the blog, so subscribe to the RSS feed to stay in the know. You can probably expect an update within the next few weeks once bug reports start coming in, and the 0.2 release should arrive at the end of April.
Next Issue
Next issue is very special, as the Carnival of Video Game Bloggers is dropping by! If you want to submit an article to be featured, please use the carnival's submission page, and make sure you drop in to see what's on show. There have already been some great articles submitted, but more are always welcome so get cracking!