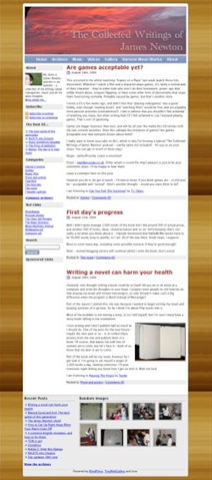 It's a none software development related post today. Hurrah!
Over the weekend, I created a new template for my brother's blog, "The Collected Writings of James Newton". I'm rather pleased with how it turned out, especially considering the fact that I'm not much of a designer.
It wasn't exactly how I'd imagined it, but I think I got the overall "feel" of the site right, and that's what matters. Creating a good atmosphere for a blog is important, and something I should probably take into account with my own blogs.
There are a few things about the design that I quite enjoyed:
Wooden Background – My designs are usually quite clinical, and although it's not real wood, I think it gives the design a more "organic" feel.
Rich Footer – They're all over the place, but I've never used one in a design before. Now I have. Grabbing random photos from TinyWebGallery was very simple, and they add colour to the site.
Sidebar – It's not too different from most sidebars, but I still like it. I like the highlighted images in the RSS and article links, and also the "About" section.
If you're interested in video games, writing or a host of other things (including Animal Crossing and Harvest Moon), then hop on over.